space | place | body | city | form | movement | image | departure
An open research lab for dancers, artists, architects, planners, designers, film makers, and researchers to actively explore the social and political position of the body in urban space through practical embodied research and performance.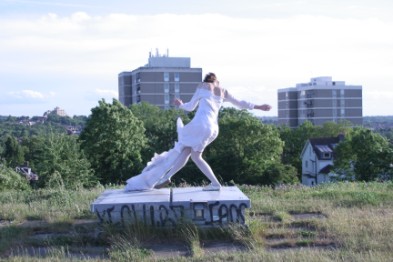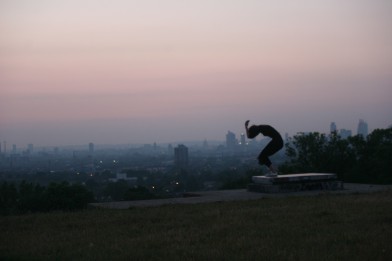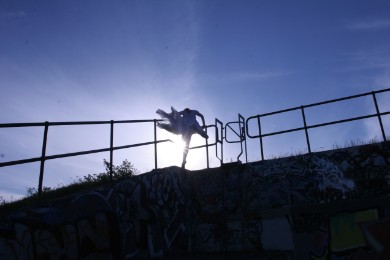 How can the human body become reactant to its landscape; how can such reactions become research of spatial coding? This research is centred around key concepts of spatial meditation and investigation of spatial patterns to explore how spaces are currently used. This investigation has been from a purely movement centred perspective, exploring the natural movement of bodies through space from perspective which views the body as addition to the architectural construction of the space.
The body in space becomes in the context of this research becomes intuitive; through its navigations following the scores this research has developed it seeks to assimilate the patterns and forms it must follow, choosing at points to accept such patterns and alternating such reactions with active rejections and recalibrations to the spatial code the mind observes and projects as reality. The body within this research becomes a mirror; a suggestive statement as to what the space may induce to its potential actions.
Yet before the research subject can arrive to such conclusions, the first question which needs to be addressed is; How does the body become a mirror to its surroundings, a subtle series of adaptations to social codes which it may have forgotten how to define, codes which by it lives out it daily encounters and accordance's; codes of social realities that it may not care to examine or disclose.
How does the body pass through the public space; subtle observation and documentation may lead us to believe that it is mindless; that we are not in full control as to the ways in which we are processing passing and committing to such realms of experiences. This research presents reactions to observations of traditional space use, then explores how such patterns can be documented and intervened.
Within this research the dichotomy between naturalistic and performative movement and the differing social reactions which arise from the reception and observation of the two forms raised the further question; Can we trace the different torrents through the space with a choreography without becoming dramatic ?
Practising Space forms an initial mode of choreographic investigation and analysis as to how people move through and use space, and explores how far photography can document and record this. The crucial concerns which have been stimulated through this research can be summarised as the following:
- how far can the movement vocabulary 'learnt' and generated within this research generate specific interactive site performances in which the public are not merely audience and stimulus, rather become critically engaged with the research concept behind the materials displayed?
-how far can Practising Space be critically explored to present solutions to spatial dilemmas within urban terrain?
- can Practising Space be used as a social tool to define and resolve communication issues between space designers and space users?
-how far can Practising Space be used to develop a critical mode of social and spatial analysis which can represented as a mode of evaluation for spatial re-evaluation.
-how far does photography communicate the essence of the action, reaction and interaction which occurred? Can photography be relied on as a research tool and how far could the works created be translated into a broader artistic context to facillate a broader audience for the project aims?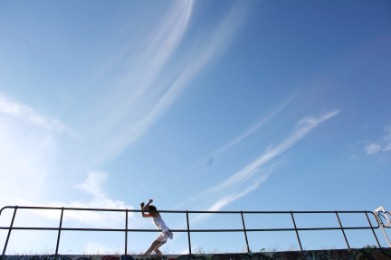 Please see the link for first example of Practising Space landscape research. With special thank to Benjamin Bailey
Performing Site | Practicing Space | the testing departure
An investigation of the use of landscape as choreographic resource.
A visual performance installation by Beatrice Jarvis | Location: Dartington College of Arts
Performers: Beatrice Jarvis, Rebecca Camilleri, Sheri Burt, Christine Borch
Guide: Dr Bob Jarvis
Music Score: Benjamin Bailey
With special thanks to Seng Jariangroj
Practising Space was first performed at Dartington College of Arts for Festival 2010; the final festival of the college to mark its sad closure. Practising Space in this context became a mechanism to explore the grounds of Dartington landscape and for the performers to generate a response which was specific to their reactions towards the location.
"Exploring the landscape of Dartington Gardens and Grounds; this performance explores and develops a movement vocabulary which is derived from the landscape as resource. Using the forms, contours, emotions and cycles of the landscape of Dartington, this performance strives to materialise a landscape through performance of between the body and landscape exploring how far the body can embody emotional sentiment through non linear counter intuitive dialogue; developing, through visualisation, a space that allows for any potential; with no boundary or limitation"
The departure from Dartington marked a change in dynamic to the project; as Practising Space research lab explores primarily the position of the body within the urban terrain; yet this performance became a testing ground to develop a research method; which now continues to flourish as an exploration of the body in the social urban terrain
For Further information please see: